Donated by Franke Show Calves
Bob and Lori Franke and family of Dover, Minn.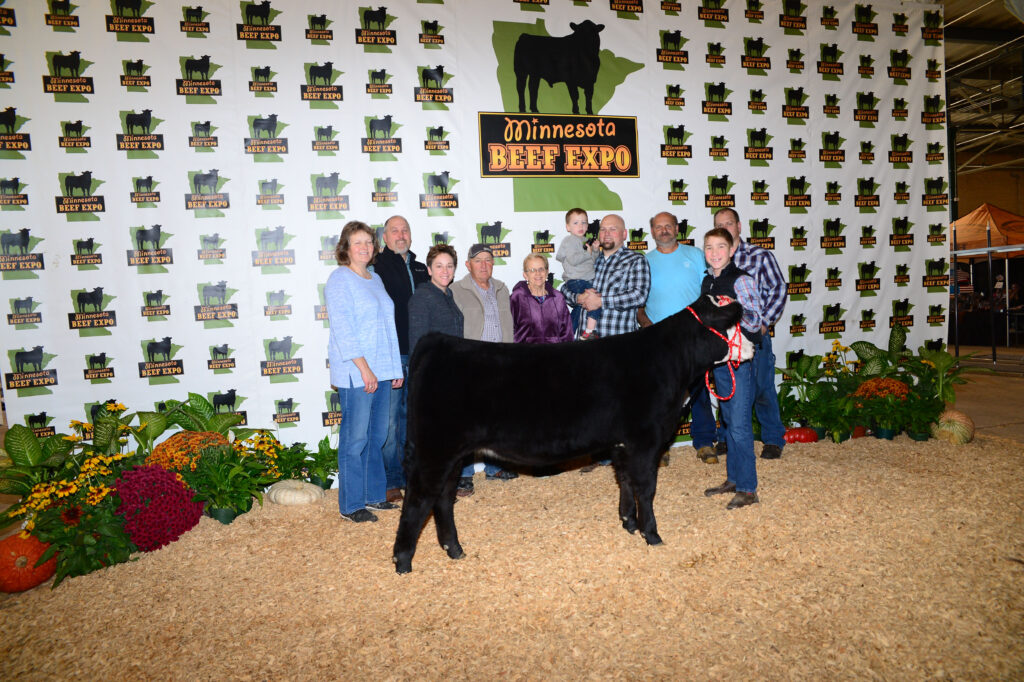 Franke Show Calves is a family run operation just outside of Dover, Minn. It is operated by Bob & Lori Franke, along with sons Scott and Spencer Franke, Scott's wife, Sarah, and their son, Barrett, who is three years-old and their daughter, Aspen, who is eight months-old, and Spencer's finance, Elizabeth Calaway. The business was formed so the boys could show cattle in 4-H and FFA. Franke Show Calves primarily focuses on raising registered Simmental and Maine Anjou. They currently run a 70 head cow herd. Franke Show Calves is dedicated to using A.I. and embryo transfer to produce top quality show heifers, bred heifers and bulls that are sold at numerous sales on and off the farm. Franke Show Calves has proudly offered cattle for sale at the Minnesota Beef Expo for years and are thrilled to offer a MYBEP Simmental heifer to some lucky individual in 2019.
---
Donated by Thesing's Riverside Ranch
Eric A. and Darcy, Eric M. and Shelby, Rita, Coy, Kasie, and Hazel Thesing of Carlos, Minn., and Jennifer and Adam, Axel, and Owen Fredman of Rose City, Minn., members of the Minnesota Simmental Association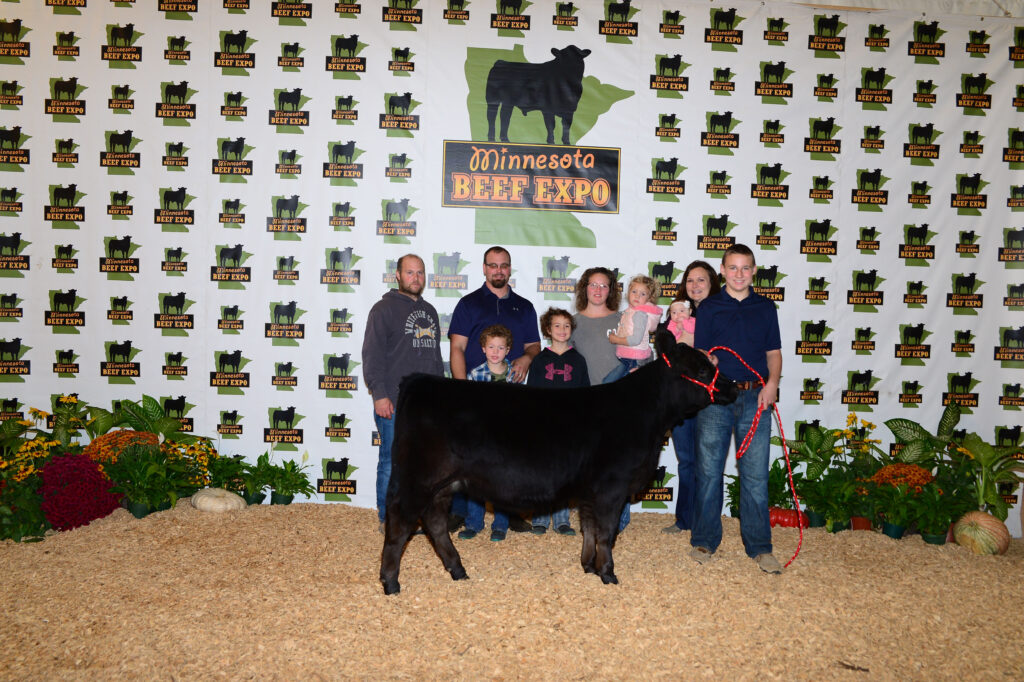 Thesing's Riverside Ranch is a successful family cattle operation. Eric A. and Darcy, Eric M. and Shelby, Rita, Coy, Kasie, and Hazel Thesing of Carlos, Minnesota, and Jennifer and Adam, Axel, and Owen Fredman of Rose City, Minnesota, are proud to donate the 2019 MYBEP Simmental heifer. Eric A. and Darcy own Central Marine and Sports in Carlos, and Darcy works in the lab at the Douglas County Hospital. Eric and Darcy purchased their first Simmental cows in 1986 and shortly after, a registered bull was purchased. A percentage herd was built by registering the calves from Eric's dad's commercial herd, slowly working towards an all registered herd. They calve about 75 registered purebred and percentage females each year, comprised of 65 cows and 10 heifers. The Thesings utilize A.I. and embryo transfer in their breeding program and retain about 20 females each year for sale either as open or bred, along with 8 to 10 bulls that are sold for breeding purposes, with the remaining calves sold as feeders or fattened for sale as off-farm beef.
Eric M. and Shelby got married in 2011 and were fortunate enough to purchase the family farm from Eric A.'s parents, Connie and Roy, where the cattle operation was started. Eric is employed at Central Marine and has significantly assisted in the growth of their crop farming operation to its current 800 acres. Shelby works at the Housing and Redevelopment Authority of Douglas County. She finds time to care for the household raising their four children and is determined to make time in the evenings to work with haltered calves and ride horses.

Jennifer and Adam, with their two boys, reside in Rose City. Jennifer works at Central Marine and Adam for Border States Electric. The couple raises their own commercial herd influenced by Simmental genetics.

Eric and Darcy worked to teach their children to work hard for what they want. The entire family is always willing to assist each other in all the aspects relating to the farm. They have strived to develop a cow herd that will be sustainable for years, and they hope the herd will be enjoyed by family in generations to come. They feel it is important to continue to promote the breed and to continue their involvement by getting other kids involved with agriculture. They are very honored to be a part of the 2019 MYBEP heifer program.