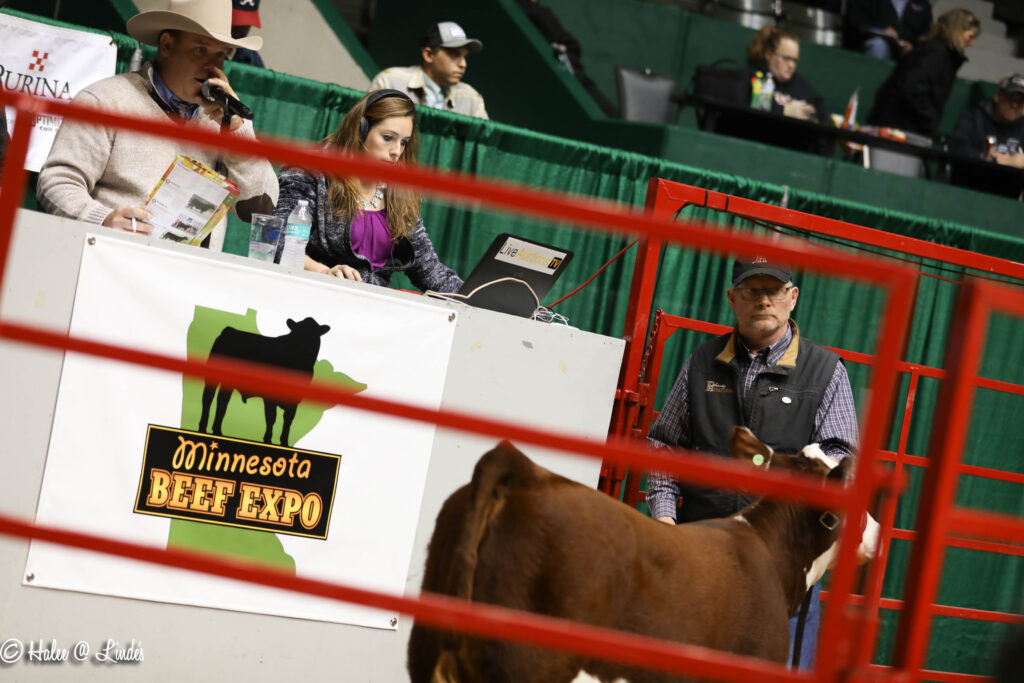 Whether you are looking for a show steer or a replacement female, you'll be impressed with the quality and selection at the Supreme Row Female and Steer Sale held Saturday of the Expo in the Lee & Rose Warner Coliseum.

The sale cattle show will begin at 7:30 a.m., and the sale will begin at 11 a.m., on Saturday, Oct. 23, 2021. Females will sell by breed followed by a Fancy Show Heifer and Prospect Calf Sale.

Be ready for sweets and treats at the Supreme Row Social that will be held immediately after the sale at 2 p.m., in the Lee & Rose Warner Coliseum Concourse.

Our day will then continue with the Supreme Row Selection event at 2:30 p.m., where we will kick off by recognizing the new Minnesota Beef Ambassador Team. We will then continue into awarding the Minnesota Youth Beef Experience Program (MYBEP) heifers as well as naming the MYBEP Achievement Award recipient. Finally, $6,750 will be awarded to the winners of Supreme Row. After our selection event wraps up, be sure to stay for the Market Beef and Prospect show beginning at 4 p.m.

Questions about the supreme row sale can be directed to Val Eberspacher at 507-532-669.
---
Sale Catalog Advertising Rates
More than 3,500 sale catalogs are distributed every year. For more information, please contact Eberspacher Enterprises Inc., at 507-532-6694 or sales@ebersale.com.
Two page spread, center, four color: $1,000
Inside front cover, four color (7.25″ x 10.25″): $600
Full page, four color (7.25″ x 10.25″): $600
1/2 page, four color (7.25″ x 10.25″): $300
1/4 page, four color (7.25″ x 10.25″): $200
1/8 page/business card, four color (7.25″ x 10.25″): $100
Advertising Deadlines:
Camera ready copy (JPG or PDF; 300 dpi and saved for maximum quality settings): Sept. 1, 2021
All other copies (Preferred formats are PDF, JPG, TIFF or EPS with TIFF preview; 300 dpi and saved for maximum quality settings): Sept. 7, 2021

Mail to: Eberspacher Enterprises Inc., Val & Lori Eberspacher, 2904 Co. Rd. 6, Marshall, MN, 56258
Phone: 507-532-6694
Fax: 507-532-9457
Email: sales@ebersale.com