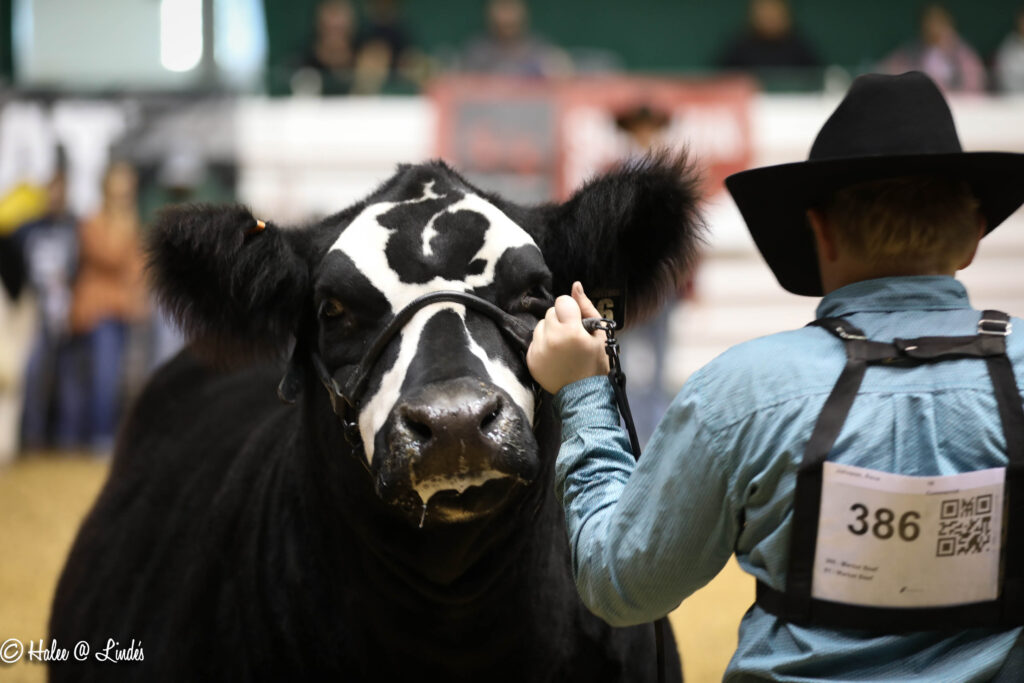 The Minnesota Beef Expo is proud to be one of the largest youth cattle shows in the Upper Midwest. Each fall, judges sort nearly 1,000 head of cattle to pick the best of the best, but it's the 500 kids behind those cattle that matter most.

We're proud to offer a weekend where exhibitors can showcase their livestock and compete in events that help build strong industry leaders. Because while raising a champion heifer is great, it's even better to raise champion kids who are the future leaders of the beef industry.

Questions about the junior show can be directed to Expo staff at info@mnbeefexpo.com or 651-643-6476. Stay tuned for information about registering for the 2021 Minnesota Beef Expo junior show!
RULES & INFORMATION
---
Registration
All animals must be pre-registered online by Sunday, Oct. 17, at 11:59 p.m., unless purchased at the Expo sale. Entries for sale animals must be made at time of settlement. Entries submitted by Friday, Oct. 15, at noon, will qualify for the early entry fee of $40/head while entries submitted by Sunday, Oct. 17, at 11:59 p.m., must pay the late entry fee of $60/head.
Each exhibitor will be limited to two entries per class.
If you are unable to access the online system, please contact 651-643-6476 or info@mnbeefexpo.com.
Registrations for showmanship must be completed online, and entries will close on Thursday, Oct. 21 at 8 p.m. No entries will be accepted after this time. Exhibitors must also confirm their entry with the show office in order to compete.
Heifers and steers are only eligible to show in one breed show and division.
All animals must be exhibited by the junior in whose name the animal has been entered. If an issue comes up where the junior cannot exhibit the animal, it must be exhibited by another junior registered to show at the Expo.
Fees
Entry fee must accompany the registration unless the animal is consigned at the Expo sale. Entry fees for animals purchased at the sale are waived.

Early entry fee: $40/head (entries submitted by Friday, Oct. 15, at noon)
Late entry fee: $60/head (entries submitted by Sunday, Oct. 17, at 11:59 p.m.)
Tie-out fee: $20/head
Showmanship fee: $5/exhibitor
Camper fee: $30/night
Bedding is included in all entry fees.
Check-In & Arrival
Animals may be brought to the Minnesota State Fairgrounds beginning Thursday, Oct. 21 at 6 a.m., and before Oct. 22 at 10 a.m. Cattle must be on the grounds by Friday, Oct. 22 at 10 a.m. No exceptions.
Junior entries will be processed Thursday, October 21 from 10 a.m. to 6 p.m., and Friday, Oct. 22 from 6 a.m. to 11 a.m. There will be no Saturday check-in for any animals.
Paperwork
Animals must have a legible ear tattoo corresponding to the purebred registration certificate recognized by the breed association to be eligible to show in a purebred division or class. Any animal not meeting this criteria will be moved to an appropriate commercial division or class.
All breeding females must have proof of registration. This will be checked by the show staff at check-in.
General Information
Youth may exhibit animals or participate in junior activities provided that they are in at least second grade and have not reached their 22nd birthday on opening day of the Expo.
Any breed with fewer than five entries may not be offered, and entries will be placed in another appropriate class.
All entries must be registered or recorded with their respective breed organization and owned by the exhibitor, either jointly by agreement or by the farm/ranch of the immediate family.
Any eligible junior who violates any of the rules of the Expo, knowingly attempts to misrepresent an animal or its registration, or acts in an unbecoming manner, shall be disqualified for exhibition and no premiums shall be paid. Such action shall be taken as deemed necessary by the Minnesota Beef Expo Executive Board.
Exhibitors must follow the International Association of Fairs and Expositions (IAFE) National Code of Show Ring Ethics. By entering, the exhibitor agrees to abide by the IAFE code of ethics. Submission of entry indicates acceptance of all rules, regulations and releases associated with the event, including photos taken during the Expo by staff or official photographers that may be used for promotional reasons.
Space is not guaranteed for grooming chutes, and tack space will be limited. Juniors are encouraged to share grooming chutes and tack areas.
See handbook for requirements to show in the breeding heifer classes.