Donated by Wildwood Farm
Jane, Tom and Joanie Waldron of Buffalo, Minn., on behalf of the Minnesota Shorthorn Association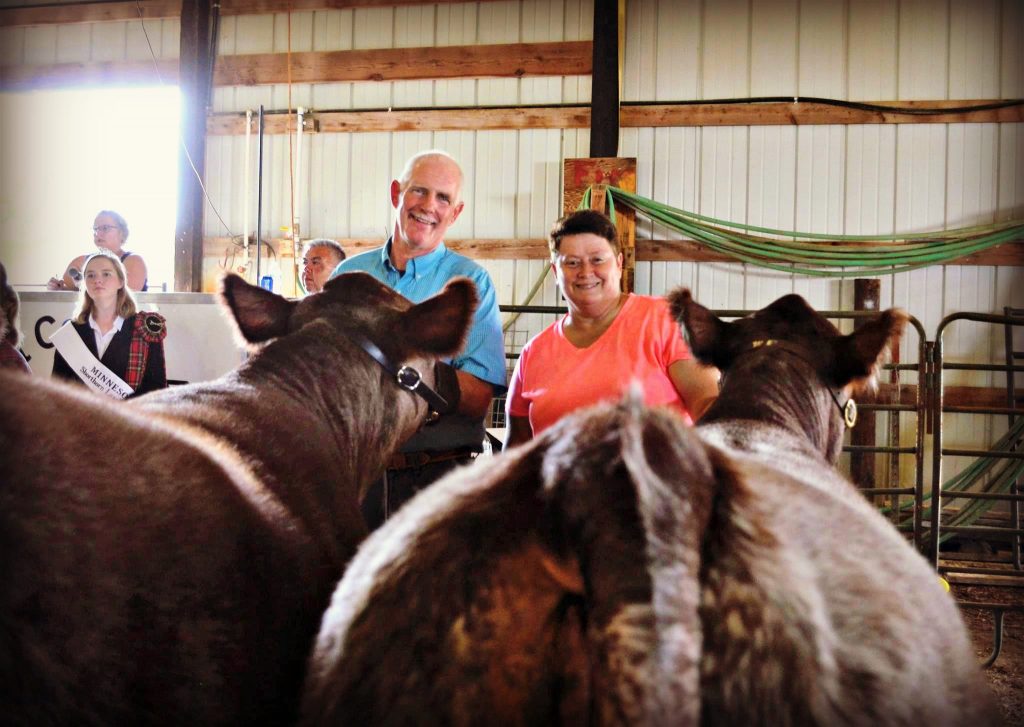 The Waldron family started raising Shorthorn cattle in 1971 with the purchase of a small herd from northern Minnesota. The original operation was named Virgil & Jane Waldron and sons. Virgil and Jane encouraged and supported their three sons, Tom, Dan and Joe, to start showing cattle in 4-H and FFA. They have proudly been raising, showing, and selling purebred Shorthorn cattle ever since.

Today Wildwood Farm is operated by Jane, Tom, and Joanie Waldron. One of their favorite contributions to the cattle industry is the mentorships that are created between the young people and families who have purchased or leased Wildwood Cattle. Wildwood Farm is dedicated to raising quality cattle that are visually correct and eye appealing with great dispositions and good udders reflecting the qualities that Shorthorns are known for traditionally. Wildwood genetics are marketed by private treaty at the Minnesota Beef Expo, the Minnesota State Shorthorn Sale, and the Watertown Winter Farm Show.
Tom and Joanie are past advisors of the Minnesota Shorthorn Junior Association. Tom has served on the board of the Minnesota Shorthorn Association as President and Director. He also served as the coordinator for the Shorthorn Junior Nationals when it was held at the Minnesota State fairgrounds.
In 2008, Wildwood Farm happily donated their first heifer to the MYBEP program. That mentorship has created a long-lasting bond with the recipient, Cody Fitzgerald, and his family. Therefore, in honor of the Waldron's 50th year in the Shorthorn business, they are pleased to donate again, along with the Minnesota Shorthorn Association. Wildwood Farm looks forward to starting another memorable mentorship with another MYBEP recipient.