Donated by Elmdale Farm, Gary and Kathy Eikmeier of Pipestone, Minn.
Co-sponsored by Schiefelbein Farms of Kimball, Minn., and the Minnesota Angus Association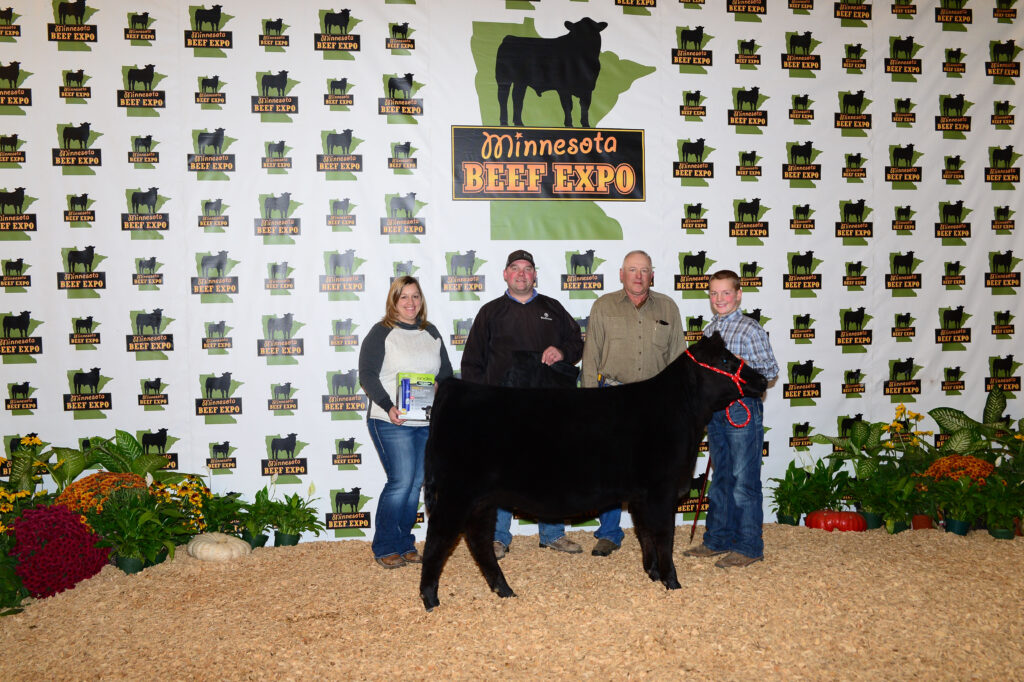 Gary and Kathy Eikmeier, owners of Elmdale Farm, in Pipestone, Minnesota, are very happy to be the donor of the 2019 MYBEP Angus heifer co-sponsored by the Schiefelbein Farms and the Minnesota Angus Association. The Eikmeier family has always believed in the positive experiences Junior programs can provide for youth, and MYBEP and the Minnesota Beef Expo are great examples of these types of programs. Elmdale Farm's Angus herd was started in 1917 by Gary's great-grandfather, August Eikmeier, and his sons, Earl and Harry, later known as Eikmeier Brothers. The brothers decided to use Angus bulls on their Shorthorn cows prior to this and to stay with tradition, there are still a few blue roan cows in their pastures today. Gary's parents, Glen and Karen Eikmeier, took over the herd in the early 1970's. Gary's sisters and brother, along with Gary, were always encouraged to participate in any Junior activity that came their way. Gary enjoyed showing cattle and being on many General Livestock Judging teams over the years. The Eikmeier family has shown cattle since the 1940's at County fairs, State fairs and National shows like Denver and Kansas City because the Eikmeiers think hanging out with other cattle folks is about as good as it gets.
Kathy and Gary both grew up in strong Angus families and found out after they started dating that their parents knew each other–so much for meeting the parents! Gary and Kathy's children, Jessica and Grady, were active in cattle shows and judging during their 4-H time and are still active in cattle and youth programs. Gary and Kathy have five happy and healthy grandkids, and Grandpa Gary cannot wait for them to get old enough to hold the halter of a black Angus heifer. Presently, the Eikmeiers run about 40 cows on the family farm southwest of Pipestone, and they try to have half the cows as Registered Angus and the other half Maines and Maintainers. They have been involved with the Minnesota Beef Expo since the start and have watched it grow and evolve into one of the premier events in this area. The Eikmeiers felt it was time to give something back to a program that has given so much to them. Gary's parents and grandparents instilled in their children that to ensure the future of the beef industry, they need to start with the youth. Gary and Kathy are confident that their ancestors are smiling down from heaven knowing that an Elmdale Angus heifer will be part of the MYBEP program this year. The Eikmeiers hope this heifer will be the start of a successful herd for its new owner, and they wish many happy memories to the MYBEP recipient of this Elmdale heifer.