Donated by Bullerman Angus Farm
Tom & Trisha Bullerman, Tyler & Hilary Bullerman, Trent & Christine Bullerman of Adrian, Minn. Co-sponsored by Schiefelbein Farms of Kimball, Minn., on behalf of the Minnesota Angus Association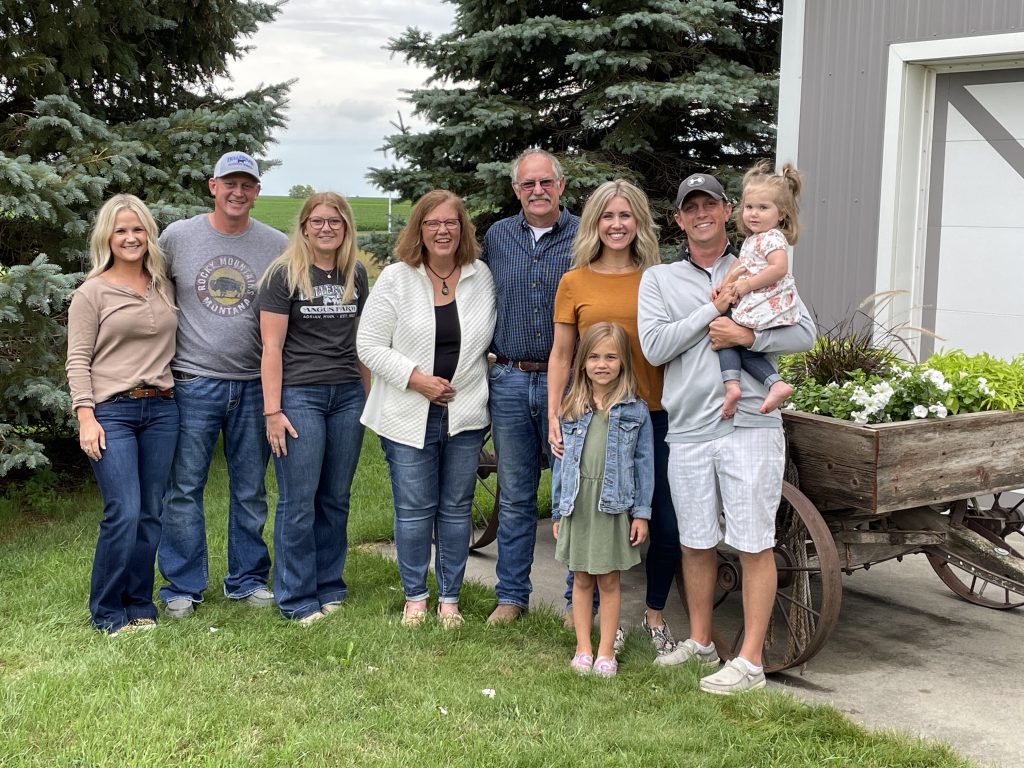 Bullerman Angus was established by Tom and Trisha Bullerman in 1983. Two purebred Angus heifers were purchased from a local breeder as 4-H projects for their sons, Tyler and Trent. Over the next 15 years, they purchased several cows, heifers, and bulls from Eloi Stassen of Marshall, Minnesota. They have added some foundation production type cows from Schaff Angus Valley in North Dakota. These cows and their offspring produce sound structured cattle with outstanding udders and form the strong base of the herd.

Bullerman Angus currently has about 140 cows. They proudly make extensive use of artificial insemination and embryo transfer. Bullerman Angus Farm has two distinct types of cows. The bulk of their females are production-oriented females with strong EPD profiles and breed leading performance. Performance data is submitted through AHIR on each animal and the use of genomics has allowed them to make rapid progress towards herd improvement. The Bullerman herd is also a participant in the Maternal Plus program offered by the Angus Association.
They also have a small, but mighty group of show females that consistently produce elite show type heifers. A number of show heifers were brought into the herd from PVF Angus of Illinois, and they are the foundation of the Bullerman show heifer division. Tom and Trisha have happily been involved with 4-H for 30+ years and have also been with the Minnesota Beef Expo since its start. Main show destinations each year are the National Junior Angus Show, National Western Stock Show, Minnesota State Fair, Iowa State Fair, Clay County Fair in Spencer, Iowa, Minnesota Beef Expo, Sioux Empire Farm Show, and Black Hills Stock Show and Rodeo.

Today, Bullerman Angus is owned and operated by Tom and Trisha Bullerman, Tyler and Hilary Bullerman and Trent and Christine Bullerman. Tyler is a part of the daily management of the Angus operation, and his wife, Hilary, works full time off the farm. Their daughter, Brynn, will be a freshman in college this fall and is active in 4H and the NJAA. Trent and his wife, Christine, and daughters, Kendall and Andi, own a lumberyard in Adrian and always help whenever an extra set of hands is needed. The Bullerman's are excited for the opportunity to be part of the MYBEP program and are confident that this heifer will be the foundation female for a new Angus breeder.